Daycare
When you're at work, your pet can be playing and getting the attention they need instead of chewing on the living room furniture or your shoes. Bring them to daycare, where they can spend the day playing and socializing with other pets and humans, burning energy and getting attention!
Sign Up Today! View Rates Our Policies
Doggie Daycare
Dogs are housed in large and comfortable indoor/outdoor runs and continually play all day. The playtimes take place in our many securely fenced play yards. Dogs enjoy interacting with the staff throughout the day and return home safe, happy and tired.
With client approval, we do interact dogs under staff supervision. Our daycare groups are small and we place dogs of similar temperaments together. We do have dogs that play directly with staff members only. They do, however, enjoy safe interaction with other pets through the enclosure barriers.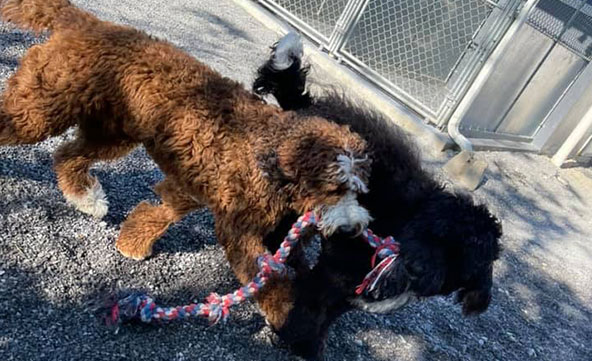 Cat Daycare
Cats are housed in multi-roomed cat condos. They are given at least 6 playtimes per day of varying duration (depending upon the interest of the cat). Cats spend most of their frolicking in the main play area or lounging on the securely screened cat porch. The resort staff relaxes in the cattery on breaks, allowing for consistent interaction between staff and visiting kitties.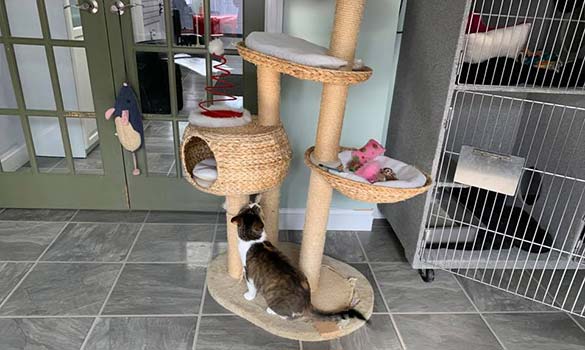 Hours
While the resort allows drop-off and pick-up for boarding pets from 9am to 6pm on Monday through Friday, daycare pets are permitted longer hours. With prior arrangement, daycare pets may check-in as early as 7am, to allow owners time to drop off prior to work.